Decarbonisation of the National Grid and the increase in low carbon technologies
Decarbonisation of electricity and paths to 2030 target of carbon free MK
A carbon neutral Milton Keynes by 2030 is an ambitious commitment and all pathways need to be followed.
Emissions are already being reduced by renewable energy installations connected to the National Grid.
So far this year the national grid has operated for over 60% of the time with more than 3,300 hours without coal. In 2018 the record for coal free time was 55 hours, this year it is 55 days. If the wind hadn't dropped earlier this week the grid would still be operating without coal. Click on the image below for more information.
Decarbonising heat
Heating and cooling account for around a third of our fossil fuel use. Heat pumps are a low carbon technology that can make a considerable contribution to reducing the use of fossil fuels. Below is a diagram from the UK Heat Pump Association of common heating system emissions. Click on the graph to go to the web site for information.
Diagram from Delivering net zero: A roadmap for the role of heat pumps. Click on the document below to download the Roadmap.
For every KWh used by a heat pump, around 3 to 5 times as many KWh's of heating or cooling are returned.
Here is a simplified diagram from Centrica of how heat pumps work.
(Diagram from Centrica: https://www.centricabusinesssolutions.com/energy-solutions/products/heat-pumps#HowItWorks)
The heat pump market in Europe is well developed.
Whilst the technology is not new, models for broader applications are increasing and the new emission reduction targets mean heat pumps are becoming an increasingly viable option.
(Credit: Craig Miller Productions, NREL 02409 https://www.epa.gov/rhc/geothermal-heating-and-cooling-technologies#Ground-Source-Heat-Pumps)
This is a commercial scale ground source heat pump used as a demonstration project at a university.
Large scale domestic ground source heat pump (https://phpdonline.co.uk/features/ground-source-heat-pump-flats/)
Heat pumps can work well at any scale from a single domestic dwelling to providing heating and cooling in a district heating development. More information on this is in the DECC guide in the documents section.
Ground source heat pump in heating mode.
Ground source heat pump in cooling mode. ( https://www.epa.gov/rhc/geothermal-heating-and-cooling-technologies#Ground-Source-Heat-Pumps)
Heat pumps are ideal for replacing new build natural gas heating so good for reducing carbon emissions until green gas is more readily available.
Air source heat pump image above is courtesy of the Centre for Sustainable Energy. Click on the image to see the whole article.
Heat pumps are most efficient when incorporated into the design of new buildings. They can be utilised at most scales from domestic to industrial. As the market increases so do the range of applications and costs are reduced as manufacturing scales increase.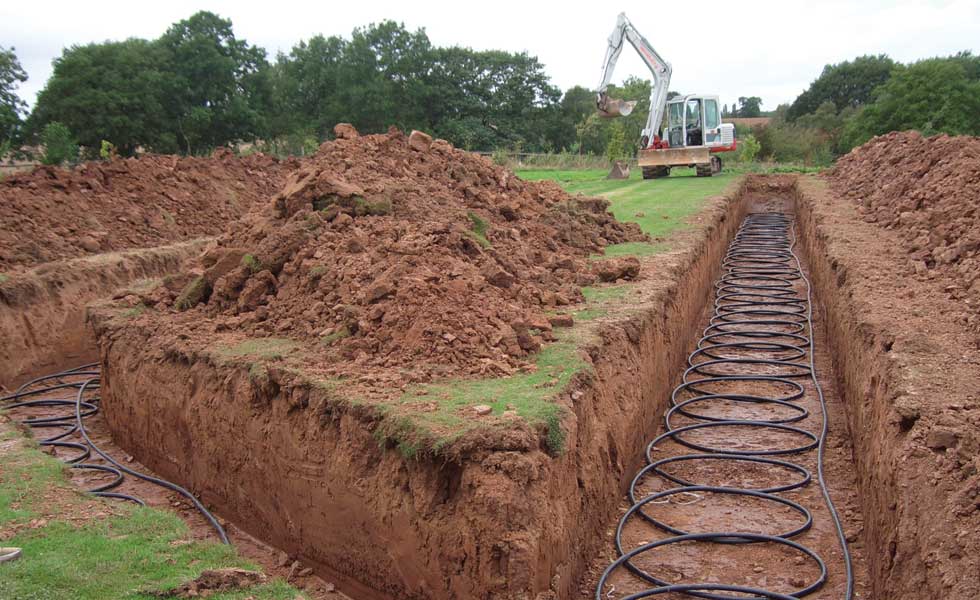 Ground sources for heat pumps can be by loop as above
or bore hole as below
or water source
(image from Incognito Heat, click on the image for more information.)
or air source.
Air source heat pump above courtesy of C.P.Jefferies. Click on the image for more information.
Heat pumps operate on electricity and emit no direct emissions during operation. Electricity can be sourced directly or indirectly from renewables.
If you have any questions or would like to see in these pages information on a particular renewable or low carbon technology, make a comment in the box below.
UK Green Electricity
UK renewable energy.
Here are two examples of green electricity generation.
This is part of the Hornsea Project Two, a 1.4 GW wind farm that will provide enough energy to power 1.3 million homes when it is completed in 2022. Image from Power Technology, click on the image for more information.
The 51.3 MW solar farm in Chapel Lane, Dorset provides enough electricity to power 60,000 homes in Bournemouth in ideal conditions. Image from Eco, click on the image for more information.
More decarbonising the grid articles to follow.
Stats
1306
Have viewed this issue